The
Miss Muddy

Course
5k of Colour, Foam, Inflatables, Mud and FUN.
Designed to suit all fitness levels for participants aged 13+, Miss Muddy is untimed and non competitive with a focus on fun and inclusion rather than Tough and intimidating.
Why not make a difference and run for a charity?
Click Create a fundraising page to fundraise for your chosen charity.
Raised so Far
$0.00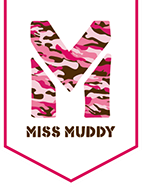 $0.00
OBSTACLES

Miss Muddy obstacles are designed to be fun first, and a challenge second (NO Electric Shocks OR Burpees!!). Challenging obstacles get an easy and hard option (easy left ... hard right) and if you don't feel comfortable doing it at all, feel free to skip past it with no penalty.
FOAM

Water Balloon Battles, Pools full of slimy balls, Massive Inflatable obstacles all finishing off with a DJ infused Foam Party .... Miss Muddy is the number one female obstacle event for a reason and that reason is fun.
COLOUR

Who doesn't love some colour in their fun run ..... At Miss Muddy we have explosive liquid colour fired from a specially designed colour cannons as well as powder colour so you can join in on creating the kaleidoscope that is a Miss Muddy colour station.